Belgium: Brussels & Bruges - where to drink, where to eat, what to see
October 07, 2020
I'm not going to lie - the main reason we booked Belgium is because I love Belgian fruit beer. Love it. Flights were cheap too so we thought why not - chocolate, waffles and beer? Yes please! So forgive me if gives you no information on sightseeing, but there will be lots on great food and bars!
We didn't really plan anything for this one and it was super chill. I'm a bit of a busy-body on city breaks - I want to be up and out of bed and exploring. But Brussels was a bit different. Whether it was because I was with other people than usual, because Brussels felt easy enough to explore on an afternoon mooch, or just because we stayed out late so got up late. Either way, it was fantastically relaxing.
Transport
We flew to Charleroi airport with Ryanair rather than the main Brussels Airport. It was way cheaper than flying to the main airport and it was only an hour coach to Brussels centre at a €10 return! We booked the coach with
Flibco
, who I've used a couple of times now and are generally really cheap to/from airports to city centres and reliable. We had a day trip to Bruges too, which is just an hour away from Brussels centre by train and cost us around €16 for a return each. The train station staff were really helpful when we bought the tickets, making sure we got the cheaper ones and telling us which platform to go to! It was about a 15 minute walk from Bruges train station to the centre of Bruges and relatively easy to navigate (just follow the crowd!).
Accommodation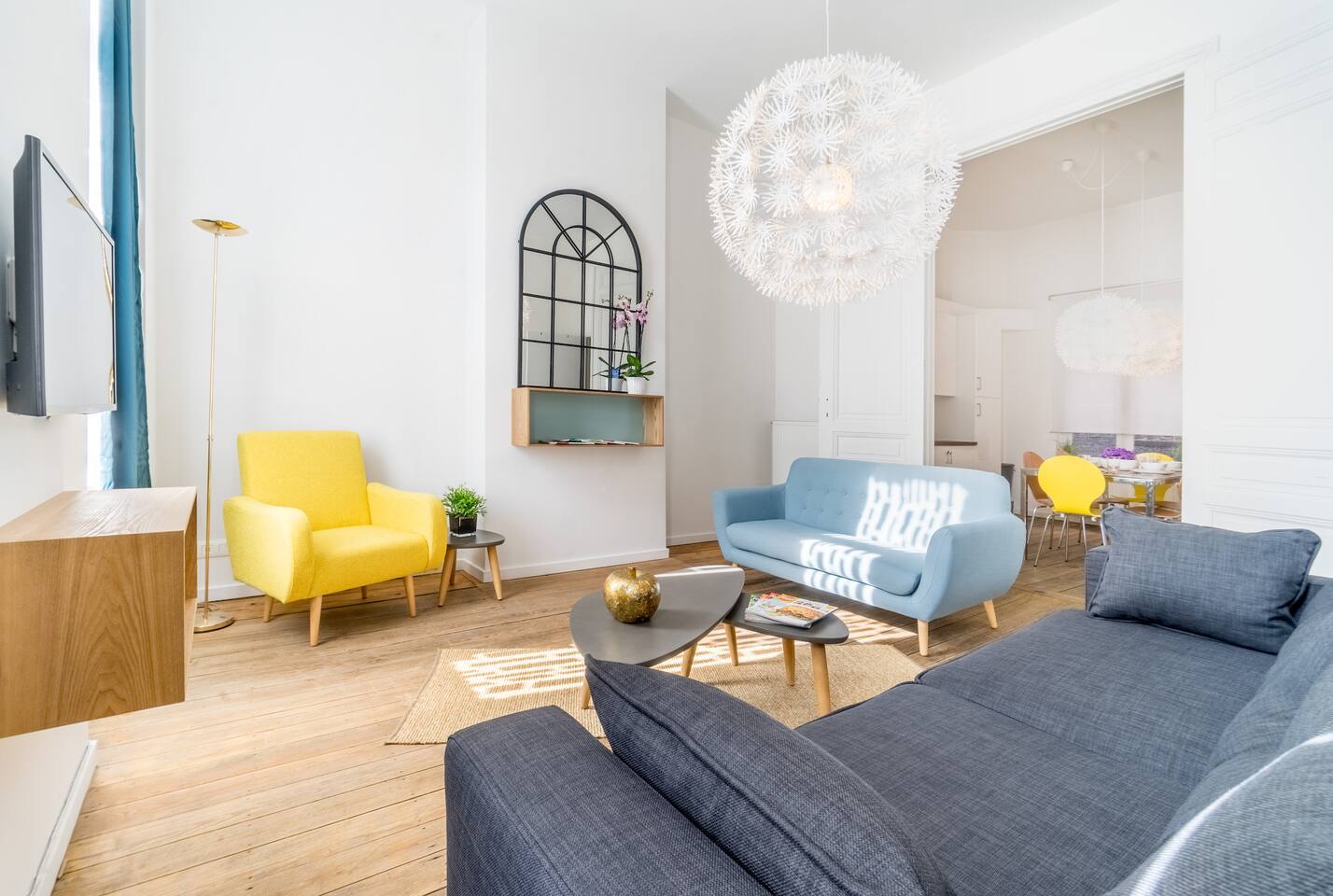 I finally bit the bullet and used Airbnb for the first time (I know, I know, where have I been?). And it was great! We booked
this lovely flat
for the four of us, it was right in the city centre and two minutes away from Grand Place. It was so easy to get the key; they had a self check-in system so there was no need to meet anyone anywhere or faff around. It was a bit cheaper than most of the hotels and in a way better location. Win!
Here's the view of Grand Place from our flat window!
Sightseeing in Brussels
Being honest, we had no idea what we should go and see, tourist wise. As I say, I came for the beer so the only thing I googled beforehand were good bars to visit. But here's a few things we did do:
Grand Place
We knew we wanted to visit the Grand Place (which is basically the main town square) and when we first saw it in the day, I have to say, it didn't look that Grand. But at night - it was beautiful! The whole thing lights up and the lights change colour in time with music they had playing. The Christmas tree was still up too, so I'm not sure if it was all a Christmas thing, but it was truly stunning and made me feel all warm and cosy inside (despite it being freezing!).
Mannekin Pis
Ah, the famous weeing boy. This was... underwhelming? He's tiny! We only knew it was him because of the large crowd around it. Still, it's in the centre so worth seeing - if only to say you've seen it!
Delirium Cafe
Belgian beer is the one. Even my friend and sister who don't drink beer drank it in Belgium. You'll see the Delirium sign up in most bars and restaurants around Brussels. It has over 2000 beers (so you're bound to find at least one you like!). It was great and very cool inside! Move aside, Brewdog - this ones a must visit.
Sightseeing in Bruges
We knew we wanted to have a walk round this quaint little town and I'm glad we did. It was beautiful! Again, we didn't really set out to see anything, we just had a walk around the shops, got some food. We did end up doing a canal tour which was great fun and quite cheap (I think €8-10).
Just having an explore was enough - you'll get to see the old buildings, cobbled backstreets and the cathedral.
Food
I'm not one for seafood - definitely not moules which are Belgium's 'national dish' if you like. So it's safe to say that I turned away from the fish and towards waffles! We had one everyday with various toppings but I think the yummiest was a plain one we had from a little van near the train station.
Don't worry if you don't like seafood either (or if you don't want waffles for breakfast, lunch and dinner). There's plenty of different kinds of restaurants to eat at. We had Italian, Mexican, a burger and fish and chips (Belgian style!).
The stand out one for me was a place called
Bia Mara
where we had fish and chips. The fish was fresh and chips were maybe the best I've ever had! It was way better than my local chippy, that's for sure!
Manhattn's Burgers
was also really good for a big burger and fries! It was kinda like a Five Guys deal where you order your food/toppings and they give you a buzzer that flashes when your food is ready to collect. A nice safe option if you prefer to stick to what you know!
Drink
I can't believe I'm writing about this last but finally, we come onto the beer. I'm a huge fan of Belgian beer anyway and drink it regularly at home in England. If you like strong fruity beers, you'll be in your element in Belgium. But if not, they also offer normal lagers and ciders and plenty of spirits! As with most European cities, the people there tend to eat and drink much later than us so you'll find plenty of bars open into the early hours if you fancy a cheeky booze cruise! Any bar you fall in will likely serve some Belgian beer but a few of my fave bars were:
Delirium Cafe - obviously! You'll find the main one down a little side street (we actually stumbled on it accidentally the first time!) and there's also a few smaller cafe's dotted around called Little Delirium which were also great.
La Porte Noir was an awesome little bar that was underground and you're basically in a cave. We found this one had loads of beers to try and it was a little cheaper than other bars.It had a DJ in the corner too if you fancied a little boogie - all round very cool place!
Moeder Lambic again had lots to choose from and had a cool decor. They also have table service here for your drinks so you don't even have to move!
In terms of my fave beers - I liked any that were fruity! Delirium Red is one of my absolute faves now thanks to this trip. I also had a really sour grapefruit one called Pink Killer that was interesting! I'd recommend just trying a few you like the sound of or ask the people behind the bar - they were always more than happy to talk us through the flavours and give us a little try.
So that was our trip to Belgium! No European Union, no strict itinery but we had a great time nonetheless! I'd love to go back one day, if only for the beer!